Nick Cannon recently made headlines for Anti-Semitic comments and in the process introduced many people to the religion of the Black Hebrew Israelites. For those of you who don't know, this religion believes that the true Israelites of the Bible are not the Jewish people we see today, but black people and other people of color. This has caused some black people to quickly jump on the bandwagon and swallow this idea whole without thinking, especially because of the racial tensions we've been living in. This post is my way of addressing some common myths the Black Hebrew Israelites teach as a way of educating some of my well-meaning black readers. It's not my intent to slander the Black Hebrew Israelites since that's never my M.O. to begin with, but also because I have family members I love who are Black Hebrew Israelites. I simply want to educate some of you to keep you from rushing into this without thinking.
For any of you who are history buffs and have read hours worth of research on this topic, I'm not going to address the extrabiblical history in this post(except briefly on point number 2). That would require a whole other post by itself. I'm only going to address the biblical "evidence". Because if the biblical evidence doesn't add up, whatever historical "evidence" that exists is questionable. 
So here are 3 myths the Black Hebrew Israelites take straight outta context…
Jacob was black and Esau was white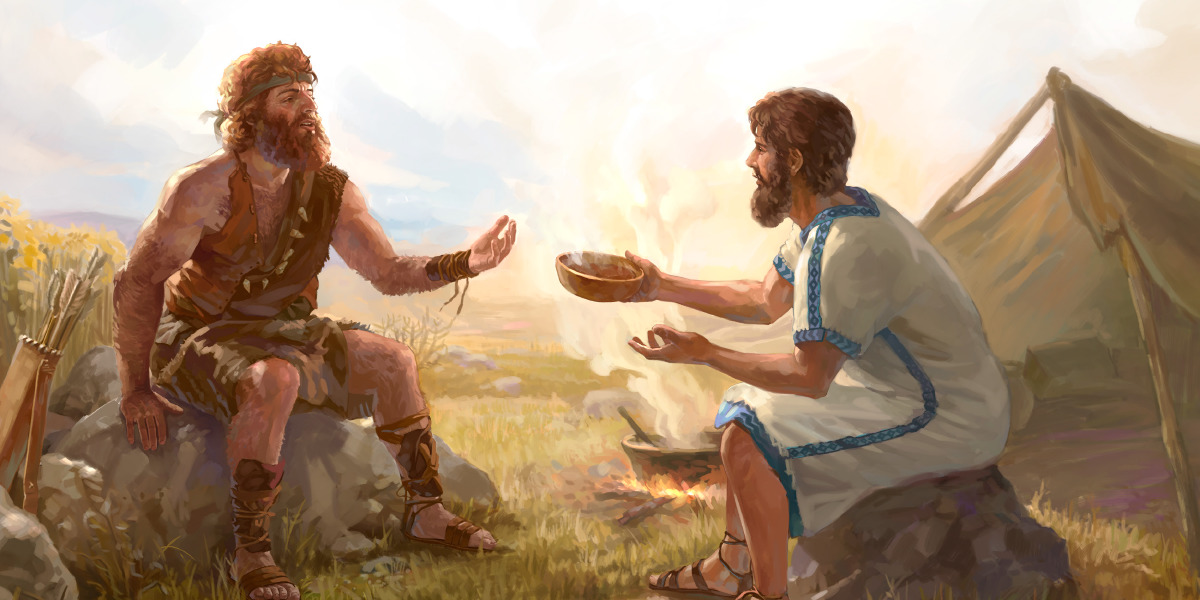 "The first to come out was red, and his whole body was like a hairy garment; so they named him Esau."(Gen. 25:25).
This verse states that Esau had red hair covering his whole body. And the only people we know with red hair, the argument goes, are white people. Then, later on when God says that He hates Esau and loves Jacob(Mal. 1:3), this must mean that He hates Esau's race. Ergo, God hates white people. And since God says that He loves Jacob and Jacob was black, this must mean that God loves black people. 
This doesn't even begin to address the fact that God's "hatred" here might mean something different than what we normally mean. This is the same God who told us to "hate" our parents and to "hate" our own lives in order to follow Him(Lk. 14:26). But all that aside, there's a very simple reason why Jacob and Esau weren't black and white. 
They were twins.
If Esau was white, then Jacob also had to have been white. There's no way around that. You can argue that they weren't identical twins, but fraternal twins aren't usually different ethnicities. 
However–plot twist–interracial twins are very real. But they are the product of interracial relationships, like these biracial twins from the UK. Jacob and Esau were not the product of an interracial marriage. Their culture actually forbade that and their parents were cousins(Gen. 24:15). Their entire culture revolved around the idea of ethnic purity so they would go out of their way NOT to marry someone of another ethnicity. So if Isaac and Rebekah were the same ethnicity, then so were their children. If Esau was white, then so was Jacob. 
But Esau probably wasn't white because white people aren't the only people who can have red hair. First of all, Moroccans(from Africa) can have red hair and straight up black-skinned Africans can have red hair when they're albino. It's very well possible that Esau was an African albino and not white at all. But the fact that that argument isn't made(probably because it would be really hard to maintain that God hates albinos) for me is evidence that this stance is shaky to begin with. But this isn't the only shaky argument for the blackness of the Israelites. 
2. The 12 Tribes are 12 groups of people of color
Black Hebrew Israelites argue that each tribe of Israel is actually a different group of people of color. So Jamaicans are from the tribe of Benjamin, Dominicans are from the tribe of Simeon, Mexicans are from the tribe of Issachar and so on and so forth. There are even verses used to support some of these. For example, one Black Hebrew Israelite explained to me that since the name Judah means "praise"(Gen. 29:35) and the African American church is known for their praise and worship, this is a small piece of evidence that African Americans are from the tribe of Judah. This also explains how Jesus is black because He's from the tribe of Judah. That logic at least is consistent in this case, but there is one glaring reason why this cultural argument as a whole doesn't make sense. 
I'm Haitian and according to Black Hebrew Israelites, I'm actually a part of the tribe of Levi. The problem with this is that Haitians as an ethnic group didn't exist until the 16th century when Spain and France invaded our island, wiped out the Taino people, and imported African slaves. All in all, Haitians did not exist until the 1500's A.D. The tribe of Levi existed in the 1500's B.C. Saying that the Levites are Haitian is like saying that the Canaanites were American. It's not historically, ethnically, or biologically possible because they did not exist yet.   
This is true for all of the other groups of people as well. Because, with the exceptions of Mexicans and maybe Native Americans, none of the other ethnicities existed during biblical times.
3. Jesus was black
"The hair on his head was white like wool, as white as snow…His feet were like bronze glowing in a furnace."(Rev. 1:14-15).
This is the big one. In the book of Revelation, John has a vision where he sees Jesus in person and the above is his description of Him: white, wooly hair and bronze skin. What kind of people have wooly hair and bronze skin? Black people. Therefore, Jesus was and is black. But as with the other verses on this list, this isn't as black and white. 
First and foremost, when you read this passage in context, it becomes abundantly clear that this is not a literal description of Jesus, but a symbolic one. How do we know that? Because the rest of the description is LITERALLY(in every sense of the word) impossible. Here it is in it all its glory:
"The hair on his head was white like wool, as white as snow, and his eyes were like blazing fire. 15 His feet were like bronze glowing in a furnace, and his voice was like the sound of rushing waters. 16 In his right hand he held seven stars, and coming out of his mouth was a sharp, double-edged sword. His face was like the sun shining in all its brilliance."
So not only does Jesus have wooly hair and bronze skin, His eyes are red like fire, His voice sounds like a waterfall, He's holding not one, not two, but seven stars, and He's spitting out a double-edged sword. Since it's safe to assume that Jesus probably wasn't literally a sword eater or holding multiple suns in his hands, then it may be safe to assume he wasn't literally black. It seems more reasonable to assume these images represent Him as the Son of God. He has hair like wool because He's the Lamb of God. His eyes are red like fire because He's going to judge the world. His skin is bronze like someone who's been through a furnace because He's been through the furnace of God's judgment and came out purified. His voice sounds like water because He has Living Water. He's holding seven stars because those stars are seven churches(v. 20). He has a sword because the Bible is the Sword of the Spirit and Jesus is the Word of God. 
Furthermore, even if this was literally what Jesus looked like when He was on Earth, it's hard to imagine that anyone would have been brave enough to talk to Him, let alone crucify Him. Therefore, Jesus wasn't literally black. 
These are just a few of the myths that Black Hebrew Israelites teach. But before I conclude, I have two words of caution to my black readers.
First, be careful about associating yourself with this movement as a way of becoming "woke". Black Hebrew Israelites are not exactly friendly when it comes to their view of white people. They generally believe that white people are the object of God's wrath and can't be saved. I'm not saying that all of them are like this, but generally speaking, they are incredibly hostile in their view of white people. So be careful about jumping on the "Jesus was black" bandwagon because you may end up associating yourself with hatred you don't actually have.
Secondly, be careful about the words you use. It's very clear that the Bible has been whitewashed throughout history. There were no white people in it because it predates white people. The main characters are all African and Middle Eastern because the entire book predominantly takes place in those two regions of the world. However, being African is not necessarily the same as being "black". When people come to the U.S. from South Africa, Morocco, or Egypt, they don't usually adopt a "black" identity. Because although they may consider themselves brown or people of color, they don't usually consider themselves black. To say that the people of the Bible were predominantly African would be accurate. But to go the step further and say that they were black would be presumptuous because they wouldn't consider themselves that way. 
At the end of the day, do your research before hopping on memes and tweets. 
Jesus wasn't white. But He also wasn't black. He was a Jewish man of color born in the Middle East.